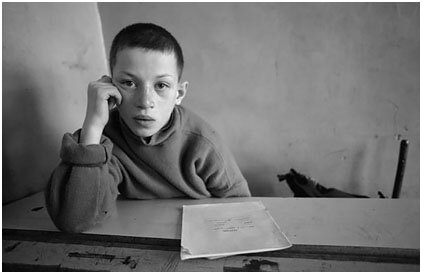 Child Welfare in Georgia
Boarding School, Kutaisi, Imereti Region, Republic of Georgia Onnik Krikorian / Oneworld Multimedia / NKA 2007. All Rights Reserved. Unauthorized Publication, Reproduction or Dissemination by any means electronic or otherwise is strictly prohibited [view images].
Photojournalism
Onnik Krikorian has been working in Armenia and the surrounding region since 1994. He has extensively photographed on themes in the Republic long before other photographers turned their attention to such matters as poverty, children in residential care, landmines and minorities. He has been published by, and has worked for, organizations and publications as diverse as The LA Times, New Internationalist, UNICEF, Everychild and Medicins Sans Frontieres among others.

Clearing the Killing Fields
A day in the field with the HALO Trust as it clears Nagorno Karabagh of landmines and Unexploded Ordnance (UXO) [view images].
2003 Presidential Elections
On the campaign trail during the 2003 Presidential Elections in Armenia and at the opposition protests following elections that "failed to meet international standards" [view images].
Yezidi Pilgramage to Shamiram
Last September, members of Armenia's largest national minority held an event in the Yezidi village of Shamiram [view images].

The Armenians of Javakhk
In the southern mainly-Armenian inhabited region of Samtskhe-Javakheti, conditions are among the poorest in the Republic of Georgia [view images].
Refugees and IDPs
Photographs of Armenian refugees from Azerbaijan and IDPs created by the 1988 earthquake and cross border shelling and landmines in Armenia [view images].
Samples
New galleries will be added in the coming weeks and months. Future galleries of existing work waiting to be uploaded include social vulnerability, mental health, boarding schools, the earthquake region and tuberculosis [view samples].