Mailing List
To receive notification of updates to this site please fill in your email address below and select 'submit.'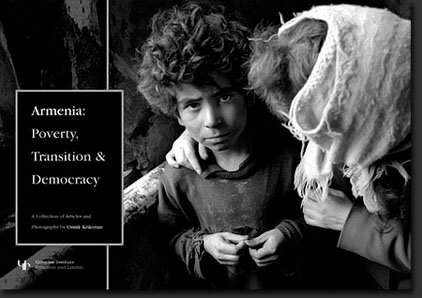 Armenia: Poverty, Transition & Democracy © Onnik Krikorian / Oneworld Multimedia. All Rights Reserved. Unauthorized Publication, Reproduction or Dissemination by any means electronic or otherwise is strictly prohibited.
Journalism
Onnik Krikorian has written articles as a stringer or freelance writer for UNICEF, Transitions Online, New Internationalist, Eurasianet, Fox News, Hetq Online, The Armenian Weekly, the Armenian News Network and others. In January 2005, a collection of articles and photographs based around the theme of Armenia: Poverty, Transition & Democracy was published by the Gomidas Institute.
Among those who welcomed the publication of the book were Lise Grande, then Residential Representative of the United Nations in Armenia, and Brian Kearney, Head of Mission for the USAID Armenian Social Transition Programme. Copies of the book are available from Oneworld Multimedia [ more details ].
Samples of some of Onnik Krikorian's published work can be found in the relevant section of his Lightstalkers portfolio page.